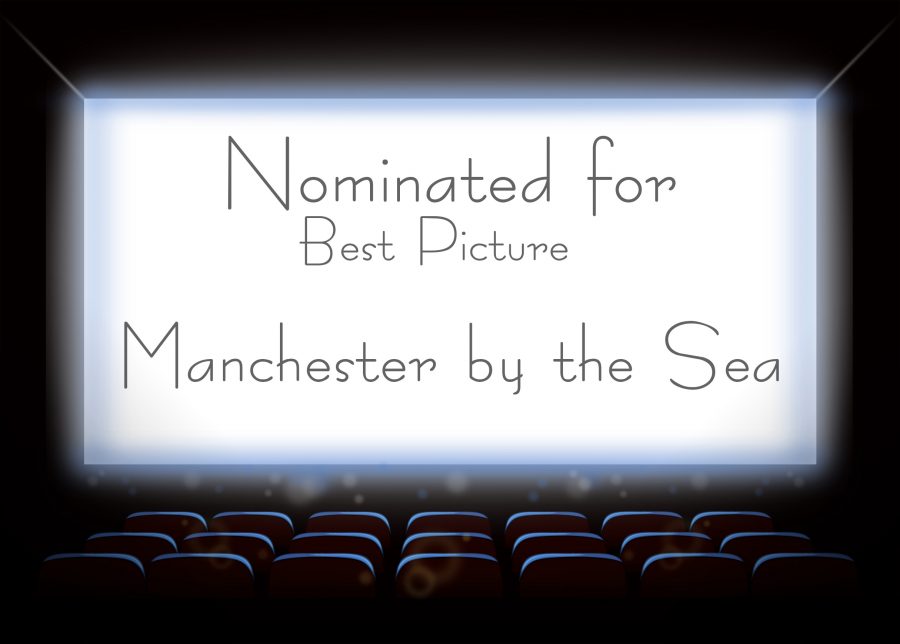 Review: Manchester By The Sea
February 23, 2017
Title: Manchester By The Sea
Rating: 3/5
Genre: Drama
Awards won/nominated for: Best Picture, Best Original Screenplay, Best Actor (Casey Affleck), Best Supporting Actress (Michelle Williams), Best Supporting Actor (Lucas Hedges), and Best Director (Kenneth Lonergan)
Summary:  Irritable and awkward handyman, Lee Chandler (Casey Affleck), is called from his sad life in Boston to his hometown after the death of his brother. Chandler is given custody of his 16- year- old nephew (Lucas Hedges), and holds the responsibility of arranging funeral plans. Through flashbacks, viewers learn of a terrible tragedy which molds Chandler into an uncomfortable person and explains why it is so difficult for him to take care of his nephew.
Who would love it: Lovers of emotional stories
Why: This movie screams heartbreak and unimaginable pain. Viewers can expect to develop a fiery pain in their throat throughout the duration of the film, as well as a feeling of  extreme depression. Manchester by the Sea is filled with sadness and pain which is hard to explain and is hopefully never experienced. Viewers will have a hard time wrapping their head around the tragedy and will go through a whole box of tissues.
Who will hate it: Lovers of action films
Why: This film in particular is very slow paced and emotional. Chandler is an awkward character who often spends far too long finishing sentences or gathering his thoughts. This movie is designed for viewers to notice that the main character has been heavily affected by an emotional tragedy by using a very anticlimactic plot. Therefore, the slow paced story would not sit well with those who love action.