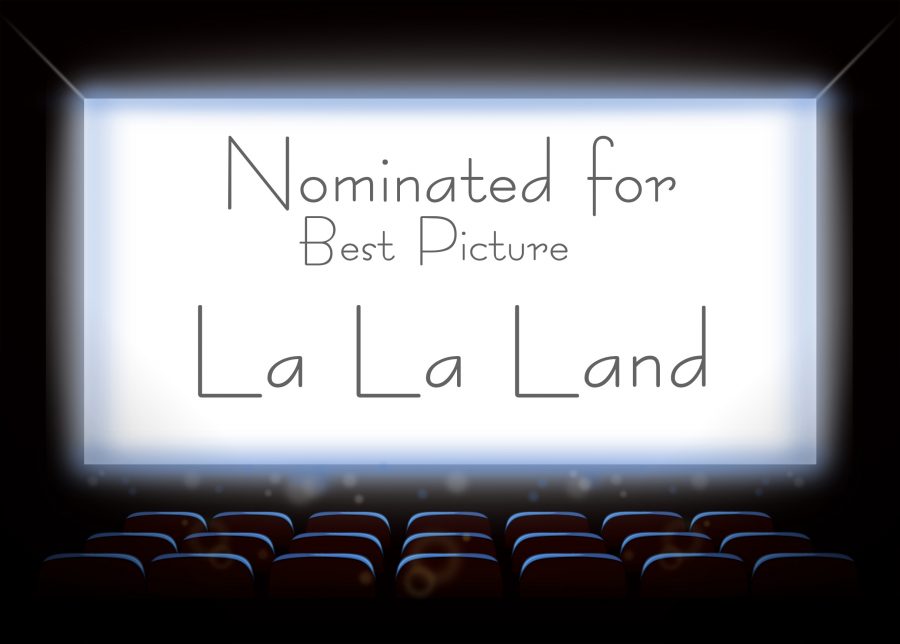 Review: La La Land
February 20, 2017
Title: La La Land
Rating: 4/5
Genre: Comedy/Drama/Musical
Awards won/nominated for: The film is nominated for Best Picture, Actor in a Leading Role (Ryan Gosling), Actress in a Leading Role (Emma Stone), Cinematography, Costume Design, Directing (Damien Chazelle), Film Editing, Music (Original Score), Music (Original Song) "Audition (The Fools Who Dream)" and "City of Stars", Production Design, Sound Editing, Sound Mixing, and Writing (Original Screenplay).
Summary: After repeatedly running into one another by chance, Mia and Sebastian come to find that they are more alike than they were initially inclined to believe. Surrounded by competitive , grueling nature of show business, both are trying to find fame in their respective passions; Mia (Emma Stone) endures countless failed auditions while Sebastian (Ryan Gosling) involves himself in anything remotely related to the dying sound of jazz. As the two fight for success, they find hope in one another's eyes, and it is not long before love finds itself simmering between the two. Through fall, winter, summer, and spring, the two walk down their own paths, facing successes and failures in both life and love along the way as they strive to achieve their dreams.
Who would love it: Anyone who loves flashy costumes, catchy music, romance, and of course the classic duo of Emma Stone and Ryan Gosling would love the film.
Why: Between the incredible costumes and the unique visuals, the entire movie is enthralling, lively, and incredibly entertaining to watch. The film puts both Stone and Gosling out of their traditional elements, which is a joy to see; filled with song and dance, it's a far cry from their usual romantic comedies. Although, Gosling playing the piano does bring back visions of his days as Noah Calhoun in Nicholas Sparks' The Notebook, which will have fans' hearts racing.  
Who will hate it: Those who don't particularly enjoy romance, predictability, controversial resolutions, or slow moving plot lines would probably not enjoy the movie.
Why: Since it is a romance above all, the movie has its moments of predictably and cheese. That being said, those who do not enjoy the traditional elements of romance would not find much pleasure in watching the film. Additionally, while some might be pleased with the outcome of the movie, it's safe to say that the nature of the ending, whether it was good or bad, is up for debate. Finally, though the pace picks up by the end, the movie does begin with an incredibly slow start, one which might lose the attention of some audience members early on.