2017 Razzies: Worst picture~ An Anthology
February 19, 2017
In stark contrast to the renowned Academy Awards are the Golden Raspberry Awards- essentially a spoof of film's most star-studded night, in which the year's most horrendous films are shamelessly mocked. Many of these movies were some of the most popular among high school students, and the awards are a great source of entertainment for all. The Razzie Award for Worst Picture is one no movie wants to receive, and considering such a dismal review, why would anyone really want to sit through such a movie other than to enjoy these "awards"? So to save innocent souls from such a torture, here can be found a review of this years nominees for the Razzie Awards Worst Picture.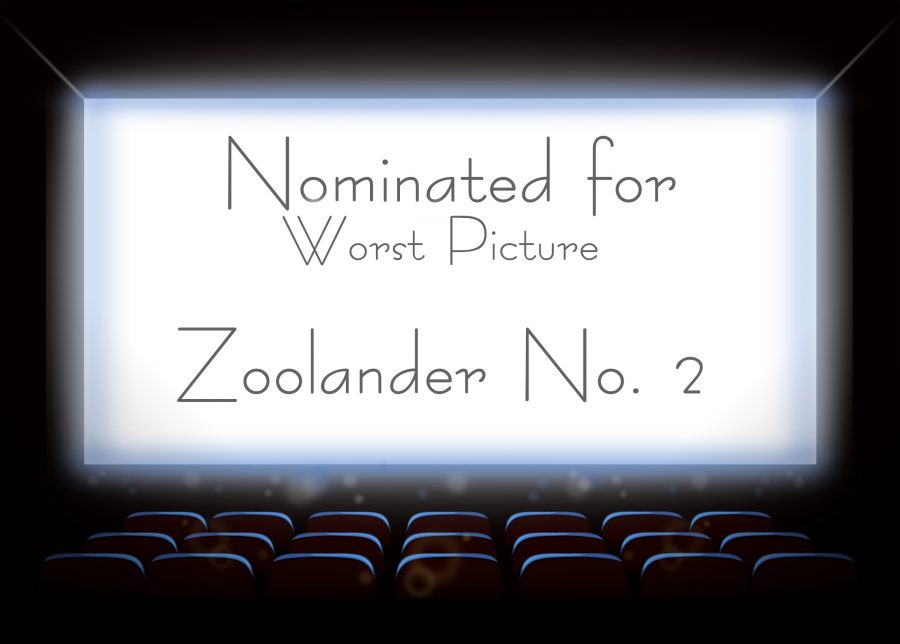 Review: Zoolander No. 2
Title: Zoolander No.2
Rating: 2/5
Genre: Comedy
Awards nominated for: Worst Picture, Worst Actor (Ben Stiller), Worst Supporting Actress (Kristen Wiig), Worst Supporting Actor (Will Ferrell and Owen Wilson), Worst Screen Combo (Ben Stiller and Owen Wilson), Worst Director (Ben Stiller), and Worst Prequel, Remake, Rip-Off or Sequel.
Summary:  Former model frienemies Derek Zoolander and Hansel are thrown back into the social spotlight after living alone and away from the world of fashion for several years. When they are invited to a major fashion event in Rome, the friends are shocked to see how much the modeling business has changed since their time on the scene. Derek and Hansel soon meet with a special agent, Valentina Valencia, who needs their help. Someone is killing famous pop stars, and it is up to them to help save society's most beautiful people.
Who would love it: Anyone willing to sacrifice 118 minutes of their life for a few giggles and an inescapable sense of awkwardness and frustration.
Why: The movie is an exaggerated story of action, vanity, and ultimate stupidity. This type of comedy is funny for people who laugh at famous people's ignorance and problems.
Who would hate it: Anyone who gets easily annoyed with exaggerated idiocy, sexual tension, and awkwardness.
Why: The movie showcases two frenemies who are quite clueless and are obsessed with their looks. They make numerous mistakes, decisions, and comments throughout the story that could be considered more frustrating than funny.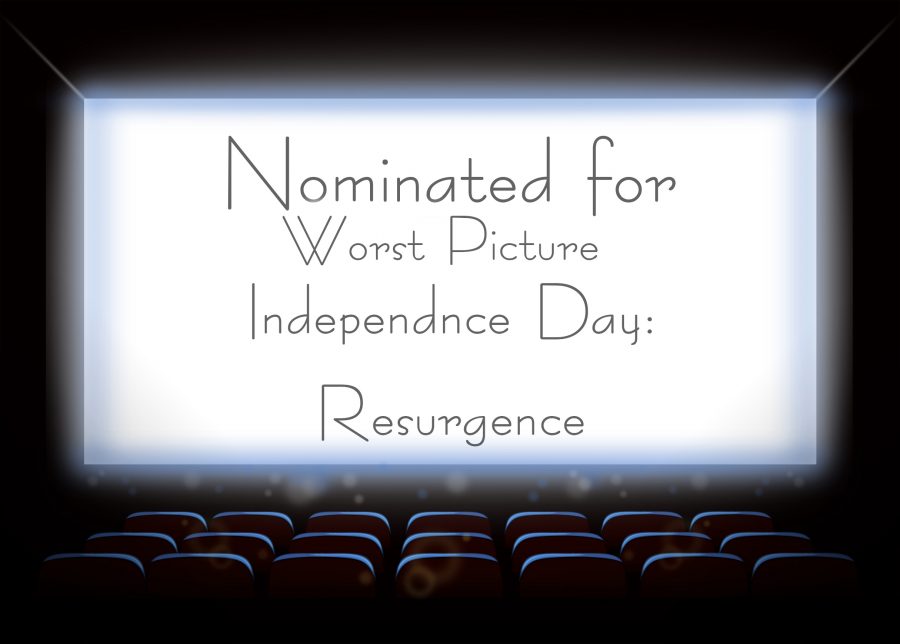 Review: Independence Day: Resurgence
Title: Independence Day: Resurgence
Rating: ⭑⭑/⭑⭑⭑⭑⭑
Genre: Sci-Fi/Action
Awards won/Nominated for: Worst Picture, Worst Prequel, Ripoff, Remake, or Sequel, Worst Special Effects, Worst Leading Actor (Jeff Goldblum), and Worst Director (Roland Emmerich)
Summary: Independence Day: Resurgence takes place two decades after the original movie. The members of the United Nations have cooperated to reverse engineer alien technology and create an anti-Extraterrestrial defense force should the alien threat come again. On the twentieth anniversary of the original alien invasion, a new threat arrives to terrify the earth once again. Earth must use the technology it recovered twenty years ago and band together to fight this new alien threat. Otherwise, all life on Earth will be collected and devoured by the insidious Harvesters.
Who would love it: People who like to watch Jeff Goldblum at his worst. This film is also for those that cannot get enough of the generic Hollywood action formula.
Why: While Jeff Goldblum reprised his starring role in the film, he did not seem pleased about it. This was a common theme in the film: the uninspired performance of the cast seemed to tell the audience they wanted to be a part of the film as much as the audience wanted to watch it… which was not a whole lot. There was nothing to separate the uninspired CGI effects of Resurgence with the high-budget, low effort set pieces of any other Hollywood action film. Even if the formulaic nature of the movie was not a deal breaker for some viewers, there are dozens of other films that do it better than Resurgence.
Who will hate it: Most people, including fans who enjoyed the rebellious and tenacious spirit of the first film and filmgoers looking for a departure from the formulaic nature of Hollywood blockbuster action films.
Why: It simply lacked inspiration. It shared the name and the release date, but it was not the love letter to the human spirit like the first film. Since humans also had advanced technology they stole from the aliens, there was no tension. Earth was the underdog in the original film; the audience could not help but root for the side with the tenacity to fight doomsday lasers with nothing but grit and determination. In resurgence, it's a simple battle of good guys with lasers versus bad guys with lasers. There was no creativity, no inspiration, no reason to watch the film over any other action film.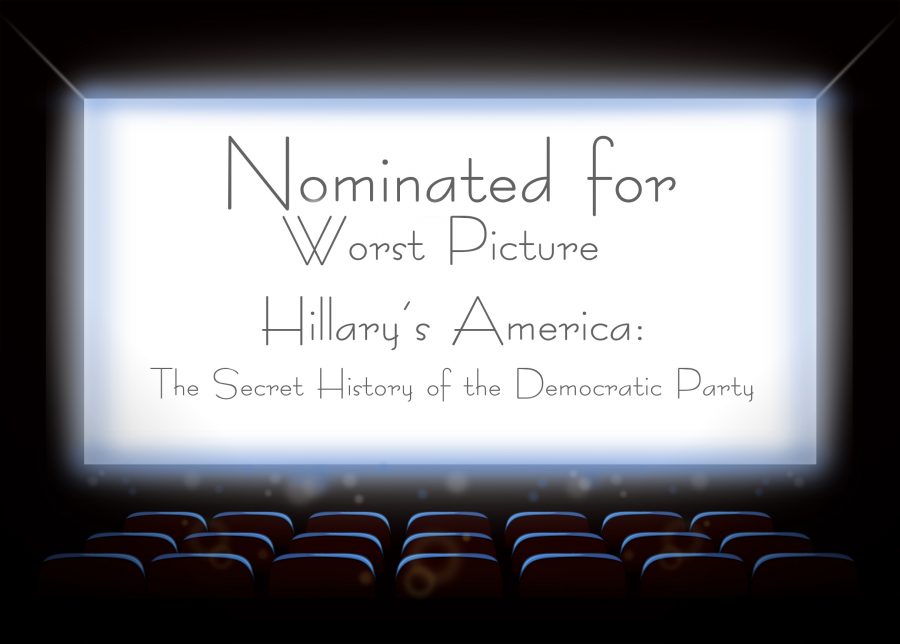 Review: Hillary's America: The History of the Democratic Party
Title: Hillary's America: The History of the Democratic Party
Rating: 0/5
Genre: Documentary
Awards won/nominated for: Worst Picture, Worst Actor (Dinesh D'Souza), Worst Actress (Becky Turner), Worst Director (Dinesh D'Souza and Bruce Schooley), and Worst Screenplay
Summary: Dinesh D'Souza, the director of the film, illustrates what he believes are the real political intentions of the Democratic party through media, posters, artifacts, etc. He also attempts to represent the ways in which the Democratic Party is corrupt. Specifically, he calls the Democratic Party racist and greedy throughout the documentary. The film also takes patriotism to a whole new level and attempts to illustrate that the Democratic Party is attempting to transform America. Viewers are left to agree or disagree with D'Souza and his depiction of the Democratic Party, depending on the beliefs of the person watching.
Who would love it: Supporters of the Republican Party that truly despise Hillary Clinton and the rest of the Democratic Party.
Why: The documentary illustrates the Republican Party's concerns about the Democratic Party and depicts flaws of Democratic leaders such as Hillary Clinton that Republicans may agree with. The movie also reels in more support for the Republican Party and makes them look better than other groups in politics.
Who will hate it: Supporters of the Democratic Party and Hillary Clinton supporters.
Why: The movie insults and bashes the Democratic Party, targeting Hillary Clinton for her work in politics, and raises many arguments that Democrats may not agree with. Democrats may be disgusted at the questions and arguments the movie brings to the political atmosphere, therefore turning away viewers who favor the Democratic Party.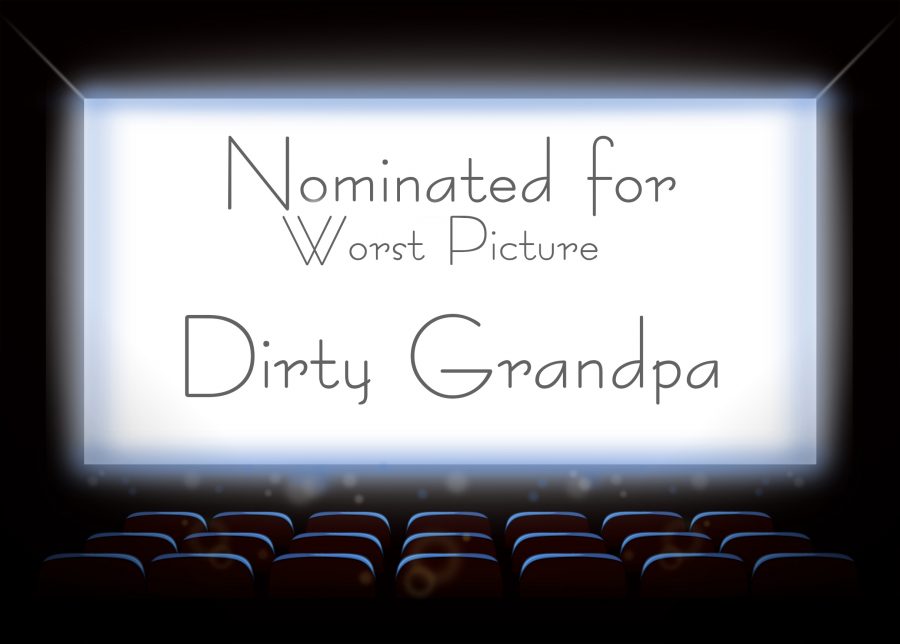 Review: Dirty Grandpa
Title: Dirty Grandpa
Rating: 2/5
Genre: Comedy
Award won/nominated for: Worst Picture, Most Egregious Age Difference Between the Leading Man and the Love Interest.
Summary: Dirty Grandpa is a comedy including Zac Efron and Robert De Niro. The movie follows a young, good-looking man, Jason Kelly, getting ready for marriage. Jason has become very serious over the years with his girlfriend and focusing on work.  His grandpa, a very laid-back and ready-to-party kind of guy, comes to "free" him from his relationship by taking him out to party.
Who would love it:The movie speaks to a young and wild audience. Young audiences, including high school and college students, would enjoy the film.
Why: Young audiences will relate to the big party scene and find the humor funny.
Who will hate it: More mature people, and those who do not enjoy raunchy humor.
Why: Throughout the movie, there are many sexual innuendos that are just gross, and overall not funny. They also make many offensive jokes about rape and race. Dirty Grandpa sounded like a funny movie idea, but it is ruined by inappropriate comedy. Most of the movie just causes uncomfortable situations that, in the end, are anything but funny.
Review: Batman v Superman: Dawn of Justice
Title: Batman v Superman: Dawn of Justice
Rating: 3/5  
Genre: Fantasy/Science Action
Awards Won/Nominated for: Worst Picture, Worst Prequel, Remake, Rip-Off or Sequel, Worst Actor and Worst Screen Combo (Ben Affleck and Henry Cavill), Worst Supporting Actor (Jesse Eisenberg), Worst Director (Zack Snyder), and Worst Screenplay (Chris Terrio and David Goyer).
Summary: The movie takes place about a year after the last Superman movie, Man of Steel. Bruce Wayne, also known as Batman, sees Superman as a threat. When journalist Clark Kent, known as Superman, hears about this, he plans to expose Batman through the press. Also, Wayne learns that the founder of LexCorp, Lex Luthor is trying to convince the senator to let him import kryptonite to protect the world against Kryptonians. With this, he gains access to the Kryptonian scout ship. Soon after, Wayne goes to a LexCorp party and steals information from the company's computer. There he discovers that Luthor is experimenting with kryptonite and metahumans. Afterward, Wayne tells his butler that he wants to steal the kryptonite and weaponize it when he has to fight Superman. When Batman breaks into LexCorp and steals the kryptonite, Luthor enters the Kryptonian ship and captures Kent's mother. Incidentally, Luthor reveals that the only way Superman can save his mother is if he kills Batman.
Who would love it: People interested in action films with fighting and stereotypical superhero/villain conflict, DC Comic fans and superhero fans in general.
Why: The entire movie's concept is based around a battle between two of the most popular superheroes, Batman and Superman.
Who will hate it: Younger audiences including children, and those uninterested in the storyline/backstories of Batman and Superman.
Why: The movie is very long and can be boring and hard to sit through if the viewer is not particularly interested. It also features dark themes with a depressing mood which can be upsetting.
Review: Gods Of Egypt
Title: Gods Of Egypt
Rating: 3/5
Genre: Action
Awards nominated for: Worst Picture, Worst Actor (Gerard Butler), Worst Screen Combo, Worst Director (Alex Proyas), and Worst Screenplay.
Summary: Egypt is plunged into darkness when King Osiris is brutally murdered and overthrown by his brother Set (Gerard Butler). Hoping to save the love of his life, a defiant mortal named Bek (Brenton Thwaites) forms an unlikely alliance with the God Horus (Nicolaj Coster-Waldau) in an attempt to save Egypt from peril, and get the girl.
Who would love it: Anyone who loves Egyptian mythology and wants to see their favorite monsters and heros come to life.
Why:  The movie holds true to most, if not all, of the character descriptions of the gods and heroes. The portrayal of the myths is well done and any mythology fan will enjoy seeing them on screen.
Who would hate it: Anyone who hates horribly done CGI and cringe-worthy dialogue.
Why: The CGI action scenes in this movie are extremely loud yet boring. They are choreographed with beautifully animated but poorly timed punches and stabs. The actors can hardly be blamed for the words they were given, so the writers must be held accountable. The script ranges from pitiful at best to cringe-worthy at worst.