History of the Common Application
If you are a senior like me, you are probably familiar with the Common Application. This college application service connects applicants with nearly 900 different institutions in one standard template. 
Fellow senior, Ryan Fitzgerald, remarked that the Common App is "Long and boring, but it was worth it since it saves you time from having to create an app for each college you apply to." Fitzgerald is applying to three colleges, so the Common App is an efficient route for his applications.  
So in honor of the November 1st Early Action deadline, let's dive into the history of this organization. 
How did this service transform into what it is today? It all began in 1975 when admissions teams from 15 different institutions came together with the goal of streamlining the college application process. The founders sought to reduce the logistical strain that overwhelmed many students and ensure that applying to college would be as simple as possible. The original Common App was a booklet of identical applications that a student would fill out and send to each college separately. The service picked up steam and by 1980, it had acquired over 100 member colleges. However, the service was still limited to private universities. Although it received its first Ivy League (Harvard University) member in 1994, it would still be another 7 years until it incorporated its first public colleges.
Paper was the dominant form of application, but the rapid growth of the Common App was limited by it. So in 1998, Common App introduced its first online application to take some of the stress off of its growing number of paper applications. In conjunction with its online debut, the company then became a non-profit in 2000. The service grew steadily and began to wean off paper applications until completely discontinued them in 2013. The increased load on the Common App website caused a variety of issues and glitches that slowed the application process. Essays were deleted, information had to be reentered, and application fees were charged multiple times. This string of impediments caused some colleges to push back their Early Action dates and look for alternatives.
Following the rocky launch of its fully online application, a competitor was formed. The Coalition for College, also known as the Coalition App, began in 2015 and quickly gained over 150 members. This did not stop the Common App's momentum as it continued to grow and expand its reach. It is now used by over a million applicants each year and has an international outreach. Just this year, the Common App added 50 new institutions, including Central Michigan University, for the 2019-2020 application season.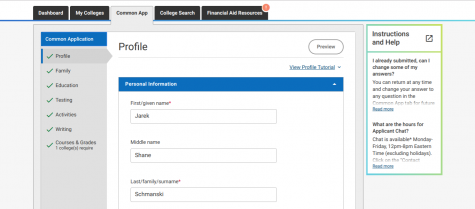 The Common App is still growing, and it recently partnered with Michele Obama's program Reach Higher. With progress like this, it appears that the Common App will only continue to grow and strive towards its "pursuit of access, equity, and integrity in the college admission process".