The Win That Stung
On Thursday, February 8, the Rochester Adams boys varsity basketball team played away at Avondale High School. The Adams Highlanders beat the Avondale Yellow Jackets with a score of 61-57 at their home court. The team started with a productive first quarter, gaining a comfortable 10-point lead. Avondale played an impressive offense going into the second quarter that consisted of sharp, crisp passes, but Adams kept them in check. Adams' strong and aggressive 2-3 zone defense prevented most shots from inside the paint and helped them hold a lead of 18-10 with. Freshman Ethan Emerzian (#24) scored a three-pointer with four minutes left in the first half that changed the score to 21-10 and solidified the Highlander's lead. Despite an eleven point deficit, the Yellow Jackets pushed through, drawing multiple fouls, hitting their free throws, and scoring lay-ups and three-point shots. The first half ended with a score of 26-16 after Adams scored a three-pointer and went two-for-two from the free throw line.
The second half started off with Avondale scoring a breakaway lay-up, making the score 26-18. The rest of the third quarter included an impressive offense that consisted of many thorough and well-executed plays. Not only was their offense organized and efficient, but their defense was strong and aggressive. Throughout the whole game, Adams kept around a ten point lead; towards the end of the game the Yellow Jackets began to pick up their intensity. With only 36 seconds left in the fourth quarter, Avondale stole the ball and scored a lay-up, changing the score to 51 to 58. Even though they tried to catch up, it was too late to stop the Highlanders. The final score of the game was 61-57. The team showed immense passion on Thursday despite playing off their home court and away, and it paid off.
"I thought we did amazing tonight because we were playing on the road, and they held their composure," said Rochester Adams Principal Pasquale Cusumano.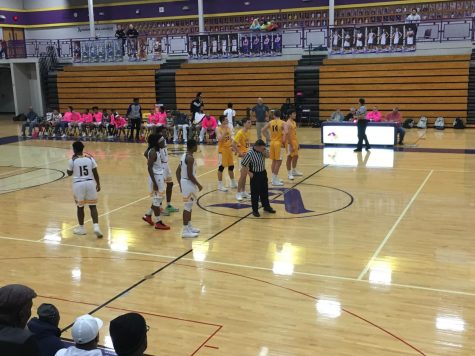 There are many things the team is working on improving and have improved. This includes amplifying their defense and improving their skills while under pressure towards the end of their games.
"I thought defensively we played really well; we kinda changed up what we normally do defensively and tonight I thought we were closing our gaps really well and playing with energy," said Coach Brad Crighton.
Overall Adams played an impressive game; the team has nowhere to go but up. They can use wins like these to fix their mistakes, improve on their strengths, and prepare themselves for the rest of this season and postseason.