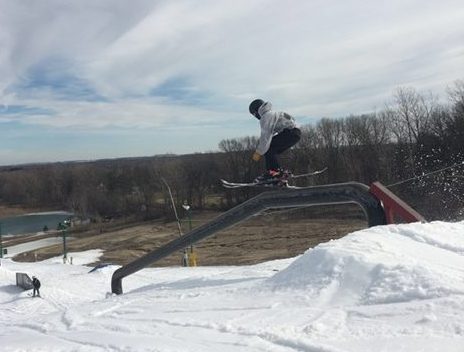 Peter Massura
Skiing and snowboarding are two of the most relaxing and enjoyable sports that Michigan winter has to offer. Adams High School students take full advantage of this pastime, and are seen skiing and snowboarding frequently at the most popular local ski resort, Pine Knob. The winter of 2018 has been very cold, but strangely without much snow, people are questioning if Pine Knob's slopes are still suitable to ski on. Pine Knob is a fairly small, but enjoyable ski resort to go to with friends and family. The ski resort offers a variety of hills for all levels of skiers, with a few long hills good for cruising, and three terrain parks for the more extreme skiers.
Although Pine Knob is a great place for skiing and snowboarding, there has been little snowfall this season, which has left unavoidable problems. For instance, the lack of snow turns the slopes into icy hills that can lead to a variety of injuries. Recently, two skiers from Adams High School broke their collar bones after slipping on a patches of unavoidable ice. In fact, this is one of the most common injuries, next to wrist injuries, that are caused by skiing on icy slopes.
Although, the parks and some of the smaller hills at Pine Knob are fairly icy, the longer hills, like "Phase 1" and the "Quarte-mile", still have quality snow for carving and racing. School ski teams such as Adams, Notre Dame Prep, and Lake Orion practice every weekday at Pine Knob on the longer hills because they are well maintained and groomed constantly by the staff.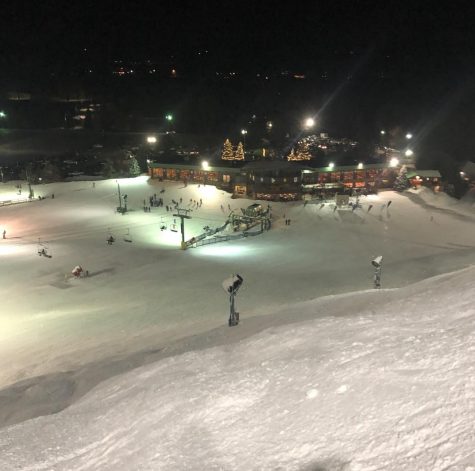 "The snow is pretty nice in most parts, but the icy parks are dangerous and hurt bad when fallen on," said sophomore Mitchell Bowery.
Another downside that comes with such little snow is that the parks lose their ability to diversify the features in their hills. With little natural snow, the ski resort cannot form large jumps or put in new boxes and rails. Currently, many of the available rails are very sticky and hard to grind on because of the scarce and icy snow. This factor can make skiing and snowboarding at Pine Knob very repetitive and boring because there are not many opportunities for new tricks and features to be attempted or used.
"The same jumps every day become boring and the sticky rails can be scary when not warned," said sophomore Zeke King.
Although Pine Knob's quality and skiing has been hindered this season due to the weather, it is still a great place for people to go in their free time. Pine Knob offers a variety of parks like Timberland and Pinery, which have a few big rails, boxes, and large jumps that are a blast and a challenge to try and master. After a few good weeks of blowing snow, most jumps and rails are finally built revitalizing the Pine Knob skiing and snowboarding experience. All said, even though Pine Knob cannot control the snowfall, the ski resort is taking action to do all it can to maintain its prime skiing experience.