The Calcamuggio Addition
The 2017-2018 school year marks the beginning of a new era at Rochester Adams High School. After the retirement of previous principal Kevin Cumming, the school has welcomed current principal Pasquale Cusumano to the Adams family. However, Cusumano was not alone when he took on the task of leading Adams. Cusumano was joined by vice principal Todd Calcamuggio, who is no stranger to the Rochester Community Schools District.
Calcamuggio attended Ohio State University for a degree in sports management and Bowling Green State University for a teaching degree. He later moved to Rochester Hills and attended Oakland University for his master's degree and has taught physical education in the Rochester Community Schools District from 2009 until 2016.
He has taught at Hugger Elementary School, University Hills Elementary School, and Holy Family Regional School. He has always loved working with children and has not lost that passion.
"I taught because I love kids . . . I used to have a classroom of 30 kids everyday, and now I have 1600," said Calcamuggio.
Despite teaching at schools in the district before, Calcamuggio admits the transition to a high school vice principal has been challenging. However, Adams staff and students greatly welcomed him to ease the transition.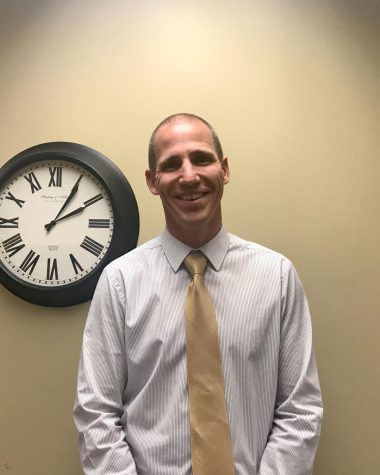 "The teachers here have been awesome. The staff, the students have been awesome; everybody's welcoming. I felt very quickly like I was part of the Adams culture . . . That made it easier because I felt like I had made a connection with kids quickly," said Calcamuggio.
Good connections between the students and principals are an important part of making the school function smoothly. Only a few months into the school year, these good connections are visible.
"Mr. Cal's a very nice person, and he's doing a great job. He's very friendly and approachable," said sophomore Morgan Howery.
As the new administration transitions into life at Adams, many expect a lot of new changes to be made. However, Calcamuggio believes no major changes are necessary.
"The school is high-performing, the school has great teachers, great kids, great families. There's a lot of things that are awesome; we don't want to change the school," said Calcamuggio.
Calcamuggio is excited to be apart of so many kids' high school experiences. He believes they are an important part of growing up and hopes to keep Adams a safe and fun place to expand knowledge and make memories.
"One of the things that we're working on is the student experience, and that's not just class, and that's not just grades. It's what happens outside of school . . .These are four years, and it's a long time, but it's really short in the grand scheme of things, so enjoy the time that you're here," said Calcamuggio.
As Adams continues to excel, Calcamuggio is excited to join the Adams staff, and Adams is honored to welcome him as a part of our new administration. The new school year has brought new students and new staff that are nothing but supportive of the Adams family.