Diversity Club Potluck: The World on a Plate
On Friday, December 21st, the Adams Diversity Club hosted a holiday potluck in the media center during all three lunches to kick off Christmas break. The $5 entry fee covered all the food that could be fit on a plate at one time, and students took their pick of homemade foods from around the world. Ingredient lists were specified to accommodate for students with allergies.
The event was a repeat of Diversity Club's successful 2017 end-of-the-year potluck, held in late November of 2018. The potluck featured food contributed by Adams' foreign language clubs, including the French and Spanish clubs. The gathering showcased the flavors of students' cultures, bringing together people from different backgrounds for an hour of socializing and food. Club president Audrey Thedford noted the success of last year's potluck fundraiser.
"Last year was a lot of fun…We held (the potluck) in the media center and had a pretty great turnout. This year I'm really looking forward to maximizing the experience : more food, more people, and just a great gathering to end the year," said Thedford, an Adams junior.
Funds raised by the potluck are to benefit the charity For Brighter Days, a charity started by Adams High School alum Wendy Dong. The organization's mission is to distribute care packages to elementary-aged students in underprivileged districts. The charity previously held a St. Patrick's Day event at Henderson Academy in Pontiac, MI. Working with For Brighter Days, Adams' students took a field trip to the school, staying for an afternoon of crafts and games.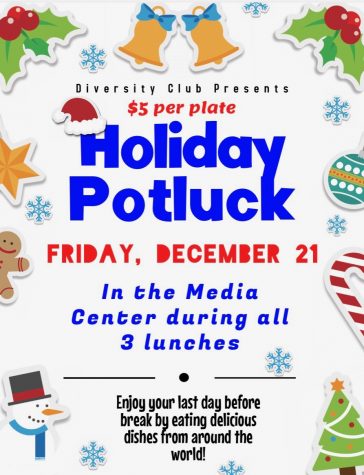 "Working with For Brighter Days on this event, I hope that we can utilize our privilege we have in this community to help other nearby communities," stated Thedford.
The Diversity Club's mission is to educate the student body about the identities and traditions of their fellow classmates. The club, which meets every Thursday after school, hopes to broaden the horizons of students and challenge them to abandon stereotypes and preconceived notions. Topics of discussion range from transgender oppression to the supposed lack of inclusivity in casting of models for the Victoria's Secret Fashion show; the club covers stories that are relevant to students today, often getting inspiration from Twitter posts to develop meeting topics. With their potluck fundraiser, club members wanted to invite all students to join them in closing out 2018 as an Adams community.